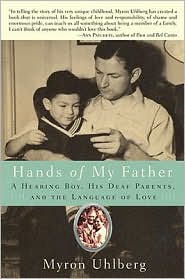 Hands of my Father
Myron Uhlberg's memoir tells the story of growing up as the hearing son of deaf parents—and his life in a world that he found unaccountably beautiful, even as he longed to escape it.


This book was recommended by someone on the
AQ Hearing Forum
. I recommended it to my local library and they generously added it to the collection. I'm really enjoying it so far. It is a look into Deaf culture that I had never experienced before. I find it fascinating to see it from a hearing child's perspective and to read it from a 1940s perspective. One of the first things that struck me is the deep and nurturing love Myron's father has for his son.